Our Surgeons
David W. Prieskorn, D.O.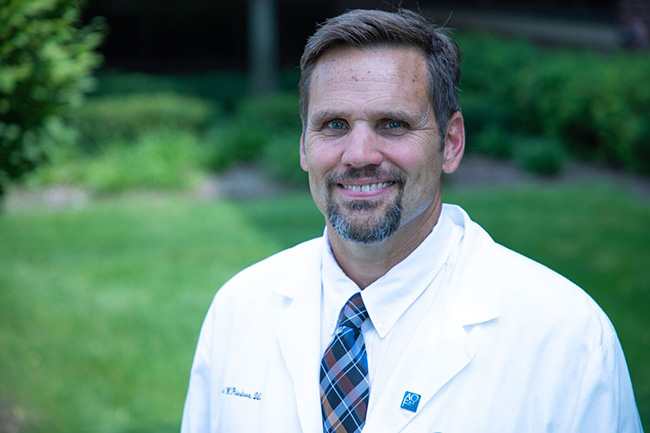 Dr. Prieskorn completed his medical education at Michigan State University College of Osteopathic medicine. He completed his internship and residency at Botsford General Hospital, a training location for Michigan State University. He has completed two fellowships in adult reconstructive and trauma surgery of the lower extremity. He is a frequent academic lecturer and has published several journal articles.
As a certified physician in orthopedics, Dr. Prieskorn attempts to first prevent injury by education and proper training technique. If appropriate physical therapy and non operative treatment are not successful, Dr. Prieskorn uses state of the art surgical techniques to treat the skeletal system and associated muscles, joints, and ligaments. Dr. Prieskorn concentrates on adult reconstruction and sports medicine of the shoulder, hip, knee and foot. In his specialty, he considers the whole person as he treats each patient's specific condition and establishes a personalized approach to answer questions and concerns. Dr. Prieskorn has designed his practice to promote maximum patient comfort and mobility. His office is equipped to conduct diagnostic testing including x-rays.
His affiliations are as follows:
Dr. Prieskorn is affiliated with the American Osteopathic Academy of Orthopedics
The American Osteopathic Association,
Michigan Association of Osteopathic Surgeons,
The American College of Osteopathic Surgeons,
the Oakland County Osteopathic Association and the Detroit Academy of Orthopedic Surgeons.
Dr. Prieskorn is also an associate clinical professor at Michigan State University.
Dr. Prieskorn is affiliated with Beaumont Hospital Botsford Farmington Hills campus and Health Match.
Germaine R. Fritz, D.O.
Dr Germaine fritz has retired from OSS at the end of October 2019. We are currently referring all hand and wrist problems/cases over to Dr John Gorski. If you have any questions or concerns, please contact our office.